Aztec Two-Step 2.0 - featuring Rex Fowler, Dodie Pettit and friends
Day of Show
$30 Cash/check only
Originating from a chance meeting at a Boston folk club open mic night in 1971, Rex Fowler & Neal Shulman burst on the scene as Aztec Two-Step in '72 with their self-titled debut album on Elektra Records. This first album and their three subsequent albums for RCA Records made the duo staples of progressive FM and college radio, helping to usher the folk-rock music of the 1960s into the 1970s and beyond. Rex and Neal went on to spend a lifetime of making music together, earning innumerable accolades over the years while building a loyal fan base.

Following Neal's 2018 retirement, original founding member, principal singer and songwriter Rex has continued on, expanding the band's musical legacy with his new ensemble Aztec Two-Step 2.0.  With 2 and 3-part harmonies, multi-instrumental arrangements, and Dodie Pettit's dazzling guitar work, they've recaptured the feeling of Rex & Neal's original studio recordings, at the same time putting a fresh spin on the songs. Still performing favorite ATS classics and old forgotten gems, the stage patter is still as engaging, fun, and poignant as ever!
ATS 2.0 is finding a home on the radio as well as creating a buzz with their live shows:

"Absolutely FANTASTIC show last night. All familiar material, just taken up a notch!!" "Exceeded all my expectations! Just magical!"  - the fans 
"The old songs done in this new lineup brought new life to the music. This truly is a band that people need to experience!!" - Ron Olesko, WFDU-FM/ Folk Music Notebook/ Hurdy Gurdy Folk Music Club, NJ  
Rex Fowler's Aztec Two-Step 2.0 performed an amazing show at the Bread Box Theater last month. It was an upbeat, musically flawless, well-delivered display of all his past hits plus a few fantastic covers. Every band member was a superbly accomplished musician, including his wife Dodie Pettit who is not only a beast on the electric guitar but also on lead acoustic and keyboards. After partnering for 46 years with the now-retired Neal Shulman, Rex has persevered and done his fans proud by keeping this iconic folk-rock band alive and thriving." - Bruce John, Bread Box Folk Theater, Willimantic CT

REX'S NEW BAND MEMBERS:  
Dodie Pettit - Acoustic & Electric Guitars, Keyboards, Vocals
Accomplished songwriter and recording artist, Dodie Pettit first met Rex Fowler in 1979 when she was a session player and singer on ATS's "Times of Our Lives" album.  A member of the famed The Untouchable and The Enchanted Forest All-Girl Bands beginning in the mid-1960s, Dodie was a former Principal Dancer for the American Repertory Ballet which led to a distinguished 15-year career on Broadway as an original cast member of The Phantom of the Opera, as well as appearing in Tony Award winning musicals CATS and Titanic. Dodie and Rex were recently married, and together, are the heart and soul of Aztec Two Step 2.0.
Steven "Muddy" Roues - Upright Bass, Blues Harmonica, Vocals
Record producer, songwriter, recording artist and touring musician, Muddy has had a rich and fulfilling 40-year career in music. He continues to perform his original roots music regularly with The Roues Brothers, Finn & The Sharks and The UpSouth Twisters. Muddy has performed live or recorded with luminaries, B.B. King, Bo Diddley, Howling Wolf, James Cotton, Sam and Dave, The Chambers Brothers, Wilson Pickett, John Hiatt, Joe Ely and David Bromberg. Muddy was an honored band member in the critically acclaimed documentary film, "The Other Side of Nashville" featuring Carl Perkins.  
Peter Hohmeister - Drums, Percussion, Vocals
Rex discovered Peter when he heard him drumming with an exquisite jazz quartet led by multi-instrumentalist Joe Meo. Over the years Peter has performed as both a touring musician and as a member of several Connecticut orchestral and theater programs including the Hartford Symphony. He is currently the principal percussionist with the Norwalk Symphony. Peter is a revered and accomplished musician and teacher, with a nuanced and versatile drumming style. His versatility is a perfect fit for ATS's diverse musical canon. 
Joe Meo - Tenor and Soprano Sax, Flute, Clarinet, Vocals
Joe began playing music at the age of 8. His first instrument, a clarinet, fell from a car and landed in his front yard. He played in musical groups in school but his main experience came from plying in a student led community big band, learning saxophone, flute and guitar along the way.  He has since played in pit orchestras for Broadway shows, as well as in rock, funk and jazz bands, and as a session player with distinguished artists Johnny Winter, Julie Budd, Johnny Mathis, Billy Vera, the Temptations, the Four Tops and the Pointer Sisters.  Joe is the newest member of ATS 2.0, adding virtuoso solos and supporting lines that compliment Dodie's compelling lead guitar work. And he has also been known to step out and sing lead on a song or two.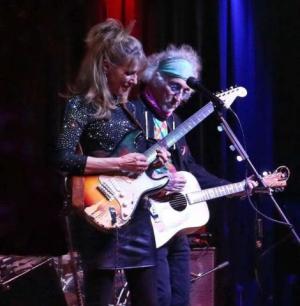 TICKETS
Online Sales are CLOSED
However:
Seats are still available at the door for this evening's concert. 
Bring cash or check $30 each
Doors Open at 6:30.