Crys Matthews and Heather Mae
Crys and Heather have been doing their show "in the round", so they are on stage together and do their own songs as well as songs together.
Crys Matthews
"Already being hailed as "the next Woody Guthrie,"DC resident Crys Matthews is among the brightest stars of the new generation of social justice music-makers. A powerful lyricist whose songs of compassionate dissent reflect her lived experience as what she lightheartedly calls "the poster-child for intersectionality,"Justin Hiltner of Bluegrass Situation called Matthews's gift "a reminder of what beauty can occur when we bridge those divides.
In her TedTalk about difficult conversations called "Sing, Don't Shout—An Alternative Approach" Matthews spoke about being born and raised in a small town in southeastern NorthCarolina by an A.M.E.preacher, and how she witnessed the power of music from an early age. A former drum major and classically-trained clarinetist turned folk singer, Matthews is using her voice to answer Dr. Martin Luther King's call to be "a drum major for justice."
"I believe in hope," Matthews said. "As a social-justice songwriter, it is my duty to keep breathing that hope and encouragement into the people who listen to my music."
https://www.crysmatthews.com/about
Heather Mae
"Modern alternative and pop, as well as vintage '60s and '80s sounds, and they range from soulful, choir-driven ballads to upbeat, electric R&B. Mae's voice is also a standout feature. Sometimes a guttural scream or growl, sometimes smooth and effortless, her voice seems capable of any feat or style." - Popdust
"Unfazed by what a typical pop artist today is "supposed" to look like and how the typical pop artist is "supposed" to sound, Heather Mae, an award-winning songwriter whose evocative vocals and rhythmic piano style call to mind artists like Stevie Nicks and Sara Bareilles, creates intoxicating music that tackles complex topics surrounding mental health, LGBTQ+ issues, self-love, racial injustice, social inequality, and women's rights. Inspired by her own personal experiences and identities - a queer, plus size woman living with Bipolar Disorder - and those of her multifaceted fans with whom she has forged connections throughout her many years of touring across the United States, Mae crafts powerful lyrics and unforgettable music about life's moments--from the quietly chaotic to the explosive.
In 2016, after an eight-month period of silence to recover from vocal nodules, Mae made a vow: she would dedicate her career to solely write music that made the world a better place. Mae, who was dubbed "the new queer Adele" by L-Mag, envelopes her audience with a message of hope. "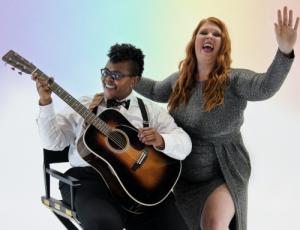 TICKETS
Must pre-purchase tickets.  No exchange of cash or checks at concert. We are not printing tickets. No need to print receipt. We will have a list.
Tickets may also be purchased by mailing a check to PFM at:
PFM
Attention: Bill Goodwin
95 Wyman Rd.  Apt 4405
Keene, NH 03431-5067
Questions about a purchase,
email
our treasurer, Bill.