We are thrilled to bring Dave Gunning back to the Monadnock Region. He last played at Deb's House Concerts. His Bass Hall, 2020 concert was cancelled due to the pandemic.
His well-crafted material is simultaneously poetic and rooted in reality, and is delivered via emotion.
"Great story telling about our lives put to songs … words that express feelings and emotions, and capture the reality and purpose of our everyday lives. Songs that give the gift of reliving experiences, savouring moments and revealing values and true meaning. Thank you!"
--- Donna Lepitzki
"What a treasure of the land is Dave about the sea, your the catch of a lifetime with words , guitar and hats of Nova Scotia "
--- Johnny Loveful
Dave Gunning is best defined as a master craftsman. Over the course of 25 years and 11 earlier albums, the Nova Scotian folk singer/songwriter has diligently sharpened his skills, developing into a poetic storyteller and emotionally convincing singer with few equals.
With a career spanning over two decades, Dave Gunning is one of Canada's folk music treasures – a critically acclaimed singer-songwriter who has earned multiple Canadian Folk Music Awards, a Juno nomination and nine East Coast Music Awards for his well-crafted work. Dave has gained a reputation for being a great storyteller and engaging performer who has the profound ability to take listeners on a musical journey through his songs. Much of his material is about the underdogs, heroes, family, the heart and reflects the messaging of social justice and carrying about the world around us. The fruits of those labours are now vividly on display on his latest collection of songs, "Up Against The Sky".
Along with richly-deserved peer respect, Dave Gunning has earned a shelf full of music industry honours. That tally currently stands at eight East Coast Music Awards and two Canadian Folk Music Awards, plus a 2012 Juno Award nomination in the Roots & Traditional Solo Album of the Year category for his album … a tribute to John Allan Cameron, a compelling homage to another of Dave's Maritime musical heroes. Dave's 2019 release, "Up Against The Sky" was recognized with four 2020 Canadian Folk Music Award nominations; two East Coast Music Awards, a Canadian Independent Music Video Award; and an International Folk Music Award nomination. His efforts have attracted strong media and radio airplay support, charting as the #1 most played Canadian and International 'Artist' & the #2 'Album' on the US folk DJ Charts (October 2019). Dave has toured extensively across Canada, the USA, the UK, Ireland and Australia delighting audiences wherever he performs.
Dave's 12th studio album, The Same Storm was released Oct 28, 2022.  
much more at:  https://davegunning.com/, https://www.facebook.com/davegunning/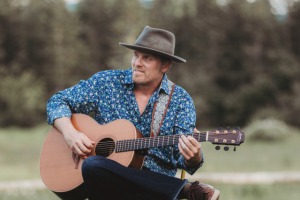 TICKETS
Tickets are available for Dave Gunning at the door!
Bring cash or check.   $25 per seat
Tickets will be on sale at the door at 6:30 for $25 (cash/checks only)