"For Erelli, music is a way to appreciate the world and the people in his life. And perhaps most acutely, the practice of music has taught Erelli the beauty of sublimation and reinforced the joy of helping others achieve their dreams, which, in turn, helps Erelli also achieve his."
  -American Songwriter
"All the things that brought me comfort, they just seem tired and  worn, what always used to work ain't working anymore," sings award-winning, Massachusetts-based singer/songwriter Mark Erelli, a few songs in to his newest release Blindsided. It's a realization that has washed over many of us, like headlights sweeping across the bedroom ceiling on a sleepless night. But for a songwriter, such an appraisal is a call to action.   
Erelli rose to the occasion with a writing streak, generating well over 30 new songs to choose from for his newest record. He ultimately gravitated toward those that wrestled with the questions we encounter in the "middle," the certain point in life when you reflect on your hopes and dreams and what you thought were certainties. "One glance at the headlines and anyone can see that we are questioning the stories we've told ourselves and, in many cases, they aren't proving as durable as they once seemed," he explains. "Do the things I took for granted as truth when I was younger still hold up? What can I still lean on? Am I strong enough for the ones I love to lean on me? The answers, if there even are answers, can be both unsettling and reaffirming."  
For much more visit https://www.markerelli.com/bio
Zachariah Hickman will join Erelli. Hickman is a double bassist, multi-instrumentalist and producer based out of Boston, MA. Originally from Lynchburg, VA, he received his formal training in jazz performance and composition from the Oberlin Conservatory of Music.
"(Blindsided) soars on the wings of jangly guitars, heartfelt vocals and soulful harmony lines...Yep, that's the sweet spot right there. And there's enough of it to make this album matter."
  -The Associated Press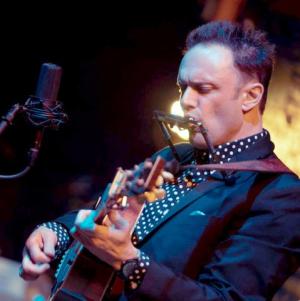 TICKETS
Tickets often sell out in advance. We are not printing tickets at this time. No need to print receipt. We will have a list at the door. Email our treasurer, Bill, with questions about a purchase.
Purchase tickets by downloading the ticket purchase form and mailing in the form and a check.
Or, purchase tickets online, below.