Rani Arbo and Daisy Mahyem - 9/16/23
Day of Show
$30 adult, $15 child
Rani Arbo and Daisy Mahyem were the PFM's first concert in Bass Hall so many years ago. A sold out show. Don't miss this long time in coming return concert.
...some of the most soul-lifting songs you'll hear in your life...
pure magic happens when these four musicians play together. No Depression
"Rani Arbo & daisy mayhem dig deep into their collective souls, finding joy in the moment, peace in the harmonies, and rapture in the rhythmic drive." — Hartford Courant 
Harmony, rhythm, indelible songs – these are the hallmarks of Rani Arbo & daisy mayhem, the New England based folk quartet now in its 17th year. From the Newport Folk Festival to the California World Music Festival and beyond, this band's steadfast brew of wit, camaraderie, and musicality leaves audiences everywhere humming and hopeful, spirits renewed.
Rani Arbo & Daisy Mayhem are Rani Arbo (fiddle, guitar), Andrew Kinsey (bass, banjo, ukulele), Anand Nayak (electric and acoustic guitars) and Scott Kessel (percussion). At the helm, Arbo is "blessed with an unmistakable voice, both light and sultry, with a hint of tremolo and smoke" (Acoustic Guitar). With Kinsey and Nayak's vibrant baritones and Kessel's resonant bass, the band's signature lockstep harmonies can shake the rafters or hush the room. Arbo's fiddle is sweet and sinewy, while Nayak's guitar stretches across genre lines. Kinsey's old- time bass anchors the deep groove of Kessel's homemade percussion kit — a truly funky collection of cardboard boxes, tin cans, caulk tubes, packing-tape tambourines, bottle-cap rattles, Mongolian jaw harps, and a vinyl suitcase.
much more at: https://www.raniarbo.com/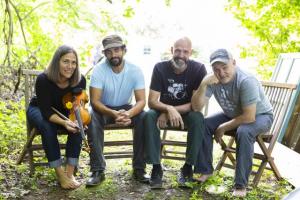 TICKETS
Tickets often sell out in advance.
No need to print an online receipt.
We will have a list at the door.
Purchase tickets online below with a credit card.
Check option
Print and mail this
order form
with your check.

There are no refunds or exchanges for purchased tickets.
Adult: $25  Child: $15