"DESPITE HIS SUCCESS AND SENSE OF HISTORY, MR. PAUL REMAINS AN ARTIST WITH HIS EYE ON THE FUTURE AND AN INTEREST IN DISCOVERING THE TRANSFORMATIVE POTENTIAL IN HIS MUSIC." - THE NEW YORK TIMES
Though some may refer to Ellis Paul as a folksinger, he is more, for lack of a better word, a singular storyteller, a musician whose words reach out from inside and yet also express the feelings, thoughts and sensibilities that most people can relate to in one way or another, regardless of age or upbringing. The exhilaration of the open road. A celebration of heroes. The hope for redemption. Descriptions of those things that are both near and dear.
Ellis Paul's music tells stories of people and places that reflect larger truths about us all. His song Plastic Soldier, for example, offers homage to a wounded soldier returning from Afghanistan. But in reality, these stories are a continuation of tales Paul has told for decades, over the expanse of nineteen albums. He is a storyteller with empathy, fine eyes and an understanding that – even though we live in a soulless, indifferent world – our music doesn't have to reflect our culture. He's an observer, a philosopher, and an astute storyteller who shares with his listeners the life lessons he's learned.
He received numerous critical kudos (15 Boston Music Awards alone), inclusion in several blockbuster movie soundtracks, commercials, TV shows and he has headlined stages both near and far. "I've got a car with over 475,000 miles on it, and it's my third road vehicle," Paul declares. "I've been doing 200 shows a year for over twenty years. There isn't a town in the country where I won't find a friend." Paul goes to practically any place a microphone beckons and a crowd of the folk faithful awaits. He's become a staple at the Newport Folk Festival, played Carnegie Hall, and venues from Alaska to Miami, Paris and London. His endless travels have been featured in 3000 Miles – part concert film, part documentary, part instructional video – which provides further perspective on both the man and his music.
Ellis also released a pair of children's albums, earning him honors from the Parent's Choice Foundation for both. 2014's The Hero In You has been turned into a picture book, detailing the lives of great American heroes which earned him an honorary Doctor of Humane Letters degree from the University of Maine. He turned it into an educational program which educates the minds of children on America's important influencers. He sings about heroes such as Thomas Edison, Rosa Parks, Woody Guthrie, Rachel Carson, and Jackie Robinson to encourage children to find the hero in themselves.
Much more - https://www.ellispaul.com/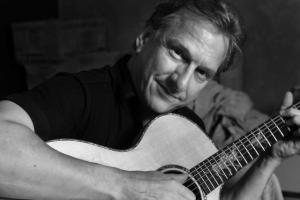 TICKETS
Online ticket sales are Closed!
However, many Tickets for tonight's Ellis Paul concert will be available at the door  for $30
Cash or check only.
If you don't have your tickets yet, there are high odds you will be able to buy some at the Door!
Masks are required while indoors.