with special guest Zoë Lewis
$25 advance / $28  Door (cash only)
Peterborough Players Theater    Concert starts at 8:00 PM.  
These two extraordinary women musicians are out of this world talented and this promises to be a memorable evening.  After seeing Zoe Lewis at the New Bedford Folk Festival in 2014 we knew we'd like to bring her from P-Town to P-borough. Then when we were able to get Patty Larkin back to headline again, we thought, "Yes, what a great match!" Both brilliant, both exceptionally entertaining, both are sure to delight and impress you.  Don't miss this show!
Patty Larkin is that rare combination of talents - a superlative singer, an accomplished songwriter and an exquisitely inventive guitarist. Guitar World calls her "genre-stretching, string-popping alterna-folk." As an instrumentalist, she skillfully and effortlessly mixes celtic, rock, folk, blues and funk.
NEW YORK TIMES
A virtuoso guitar player and mood-shaper...She is also a superb slide guitarist whose mature work is comparable to the best of Bonnie Rait and Lucinda Williams.
PERFORMING SONGWRITER
Imagine a drop dead brilliant guitar player, a richly textural singer, a commanding, poetic songwriter, a hilarious and personable entertainer. Now imagine these all in one person. There you have Larkin.
Patty is the recipient of an Honorary Doctorate of Music from Berklee College of Music, where she is now an Artist in Residence. Patty has earned eleven Boston Music Awards and has been honored by Boston's Mayor Thomas Menino with "Patty Larkin Appreciation Day" in recognition of her philanthropic contributions to non-profit organizations.
ZOË LEWIS … Who Is She?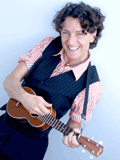 A worldbeat-vaudeville extravaganza! ZOË LEWIS is a band in a body! She plays jazz, jump jive, latin grooves, swing, international folk, funk originals on anything from the piano to the spoons! Troubadour, vaudevillian, storyteller, adventurer, singer-songwriter! ZOË has toured with JUDY COLLINS, NANCI GRIFFITH, PAT BENETAR and THE INDIGO
GIRLS. Originally from England, she now resides in Provincetown on Cape Cod, MA, where she performs every summer. Her music is upbeat, amusing and perfect for young and old alike.
Concert starts at 8:00 PM.  Box Office opens at 7:00.  No reserved seats--doors open to concert room at 7:30.
                                                                                   .