Patchouli & Terra Guitarra - 8/11/23
Patchouli
"An acoustic duo whose songs about harmony & healing inspire the human spirit" 
   - B Sents, Chicago Tribune
Terra Guitarra
"Terra Guitarra is one of the best nuevomenco groups in the world"
   - Zone Music Reporter
Patchouli & Terra Guitarra is the #1 Charting International Guitar duo of master guitarist Bruce Hecksel and singer-songwriter, guitarist Julie Patchouli.
Zone Music Reporter calls Terra Guitarra "one of the top nuevo-flamenco groups in the world", Awarded "Best Instrumental Album of the Year" for Of Sea & Stars. Patchouli is a folk festival headliner and Public Radio favorite with pure, sparkling lead vocals and beautiful harmonies.
Their sound, depth and virtuosity is described as "Simon and Garfunkel meets the Gipsy Kings" and City Pages compares it like "taking a yoga class in a field of running mustangs". With 22 CDs, 5,000 shows played in US, Europe & Asia Patchouli & Terra Guitarra embody the spirit of the 60's & 70's and the Romance of the Spanish guitar, with their world class music that uplifts & gives hope in a show that "inspires the Human Spirit" - Chicago Tribune. 
Patchouli & Terra Guitarra   www.patchouli.net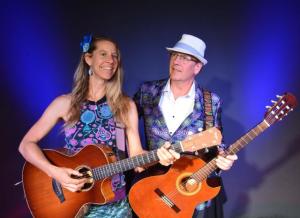 TICKETS
Tickets often sell out in advance.
No need to print an online receipt.
We will have a list at the door.
Purchase tickets online below with a credit card.
Check option
Print and mail this
order form
with your check.

There are no refunds or exchanges for purchased tickets.