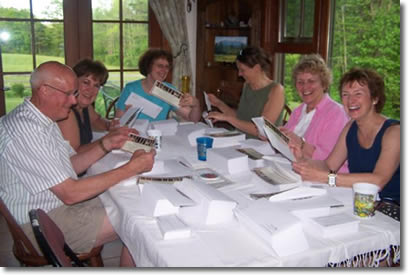 The Peterborough Folk Music evolved out of the well known Peterborough NH's, The Folkway, a wonderful coffee house founded in 1975 and unfortunately permanently closed its doors on January 1, 1996. At that time a few Folkway board members decided to keep the Folkway's legacy alive and to continue bringing folk music to the Monadnock Region. The new Society got busy acquiring a non-profit status, looking for new board members, corporate sponsors, web and graphic designers, volunteers, and looking for a good place to hold folk concerts. We landed in the Unitarian Universalist Church on Main St. which was a wonderful venue for us for the first few years. We asked one musician from each of the next 6 months to come to our new venue. Our first show, only 9 days after the closing of The Folkway, was Dar Williams and Peter Mulvey. Attendance was beyond our expectations and so it has continued since 1996. We moved our location to the Peterborough Players a few years later where each of the 220 comfortable seats has excellent acoustics and a great view of the stage.
We also provide some concerts in smaller venues which allows us to present more intimate concerts along with the ability to introduce the Monadnock Region to musicians who may not have played in our area and are also very talented musicians. These venues include Bass Hall at the Monadnock Center in Peterborough and The Spinning Room in the Granite Mill in Harrisville. For larger concerts, we have used the new Park Theater in Jaffrey.
We continue to live by our mission statement:
The Peterborough Folk Music is an all-volunteer non-profit organization dedicated to bringing the most innovative, entertaining and diverse musicians to the Monadnock Region.
Musicians who have appeared on our stage over the many years are: Loudon Wainwright III, Greg Brown, Richie Havens, Cheryl Wheeler, Lori McKenna, Janis Ian, Richard Shindell, Dar Williams, Lucy Kaplanski, Jonathan Edwards, Bill Staines, Aztec-Two-Step, Le Vent Du Nord, Battlefield Band, Tom Rush, Trout Fishing in America, The Nields, Christine Lavin, Garnet Rogers, Patty Larkin, Tony Bird, Ellis Paul, Martin Sexton, Dave Mallett, Harvey Reid and Joyce Anderson, Bill Morrissey, Tricket, Bok and Muir, Susan Werner, Connie Kaldor, The Kennedys, Karen Savoka, Chris Smither, Gary Rosen, Ferron, the Burns Sisters, Northern Lights, Chris Williamson, Rolling Crones, Lui Collins, Robin and Linda Williams, John McCutcheon, Mark Erelli, Kris Delmhorst, Brooks Williams, Cliff Ederhardt, Peter Mulvey, Odetta, David Surette and Susie Burke, David Roth, Dave Carter and Tracy Grammer, Darrel Purpose, Carol Noonan, Rani Arbo and Daisy Mayhem, Rory Block, Jennifer Kimball, Eddie From Ohio, The Mammals, April Verch, The Glengarry Bhoys, Kenny White, Colleen Sexton, Tom Paxton, Lisa McCormick, Deb Pasternak, The Thompsons, John Schindler, Rachael Davis, Lisa Bigwood, Ray Bonneville, Diane Ziegler, Stephen Kellogg, Flora Reed, Jess Klein, Mustard's Retreat, Jim Henry, Pamela Means, Tret Fure, Kelly Joe Phelps, Cormac McCarthy, Herdman, Hill and Mangsen, Chuck Brodsky, Erica Wheeler, Bob Martin, Maria Sangeolo, Don White, Femme m'aime, Devonsquare, Suzanne McGettigan, Red Molly, among others.
Our Board of Directors
Deborah McWethy: President/Program Director
Kate Coon: Vice President
Bill Goodwin: Co-Treasurer
Diane Goodman: Secretary
Jim Van Valkenburgh: Co-Treasurer and Social Media
Yvonne Gifford: Volunteer Coordinator