PIERRE BENSUSAN - 10/27/22
Day of Show
$30 cash/check
Back in 1974, Pierre Bensusan (www.pierrebensusan.com) was cutting his teeth as a performer on the folk scene in Paris and other cities in France when one of his idols, banjo great Bill Keith, offered him his first official paying gig ever touring Western Europe with his bluegrass band. The French-Algerian upstart, humbly launching a four decade career was hired to play mandolin. But when Keith heard his groundbreaking approach to the acoustic guitar, he decided to allow Bensusan a few key spotlights on that instrument.
Decades later, when Bensusan was looking for potential finishing touches for "Encore", his ambitious and expansive retrospective collection celebrating 40 years as a globetrotting live performer, he discovered a reel to reel tape with a Swiss National Radio recording of a concert in Lausanne from that tour. While the tireless troubadour's original plan for the 3-CD set was to include tracks recorded between 1998 and 2013 in France, Canada, Ireland, Austria and especially the U.S. (where he regularly records), Bensusan decided to round out the 35-track set by starting "Disc 2" with a set of five titles from this show, including two bluegrass songs.
In all, Encore features 11 tracks never previously released commercially in any form.
Engineered in Los Angeles by Grammy winner Rich Breen, Encore also includes a handful of songs featuring Bensusan's beautiful French language vocals ("Cordilliere" and "Pas Sage," among others) and wordless vocalese ("Bamboul'hiver"); two cuts with future Dream Theater keyboardist Jordan Rudess from a commissioned 1998 concert in Northern France that included a 200-piece children's choir (including the previously unreleased "Anthem For The Ocean"); and the 18-minute setpiece "Celtic Medley." In all, Encore features 11 tracks never previously released commercially in any form.
http://www.facebook.com/pierrebensusan
http://www.youtube.com/user/bensusanhq      
PIERRE BENSUSAN AWARDS
* IMA Award for Best Live Album, for "Encore" (USA)
* Guitar Player Magazine Readers Choice Award, for Best World Music Guitar Player (USA)
* Grand Prix du Disque - Rose d'Or at the Montreux Festival for "Près de Paris" (Switzerland) 
* Ards Guitar Festival Lifetime Achievment Award (Northern Ireland)
* "Album of the Month for "Encore" in Guitarra Totale Magazine (Spain)
* "Intuite" named second Best Acoustic Album of all times in Guitarra Totale Magazine (Spain)
* AFIM (American Association for Independent Music) Award for Best Acoustic Instrumental Album (USA)
* Naird Award for "SolilaÏ" (USA)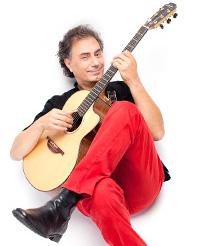 TICKETS
Tickets often sell out in advance.
No need to print an online receipt.
We will have a list at the door.
Purchase tickets online below with a credit card.
Check option
Print and mail this
order form
with your check.
TICKETS WILL BE AVAILABLE AT THE DOOR. CASH/CHECKS ONLY - $30

There are no refunds or exchanges for purchased tickets.