"Not only a first-rate Dobro player but a songwriter to be reckoned with."
  --John Platt, WFUV
Abbie Gardner is a fiery dobro player with an infectious smile. Whether performing solo or with Americana harmony trio Red Molly, her acclaimed tales of love and loss, both gritty and sweet, are propelled by her impeccable lap style slide guitar playing. Solo performances feature the dobro as a solo instrument, bouncing between a solid rhythmic backbone and ripping lead lines, all in support of her voice and songs. Her latest recording DobroSinger hit #11 on the Billboard Blues Chart. It's intimate, real and raw - her dobro and voice recorded at the same time at home, without a band or any studio tricks to hide behind. You can hear every breath, every chuckle, as if you are in the room with her.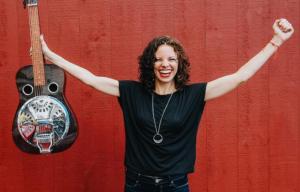 TICKETS
Tickets often sell out in advance.
No need to print an online receipt.
We will have a list at the door.
Purchase tickets online below with a credit card.
Check option
Print and mail this
order form
with your check.

There are no refunds or exchanges for purchased tickets.