After being incredibly cautious during the pandemic, The Kennedys are really looking forward to being back at Bass Hall. We are thrilled to have them. Pete and Maura are one of the most popular duos on the circuit today. Tickets will sell quickly so don't hesitate.
The Kennedys are an American folk-rock band, consisting of husband and wife Pete and Maura Kennedy. They are recognized for their harmonies and instrumental prowess, blending elements of country music, bluegrass, Western swing and janglepop.
In the midst of the Covid-19 pandemic, and after losing more than 150 concert engagements for the rest of 2020/2021, The Kennedys started a weekly, all-request livestreaming show, beginning on Sunday, March 15, 2020 at 2pm EST, and running every Sunday at the same time. These shows were designed to provide an uplifting hour every week to everyone suffering through the pandemic. After the first several shows, in which The Kennedys fielded real-time requests through the chat window, emphasizing their desire to repeat as few songs as possible, they then started including specialty shows, paying tribute to some of their favorite musical influences such as Bob Dylan, Buddy Holly, The Everly Brothers, John Lennon, Nanci Griffith, Patsy Cline, The Byrds, and a four-part Beatles mini-series. In addition, they have presented hours dedicated to specific genres, including the Summer of Love, a Beach Party, California Country Rock, British Invasion, and a Motown special. All of their weekly shows are archived on their YouTube channel's Weekly Livestream Archive.
Originally based in Austin, Texas, they spent a few years in the Washington DC area before moving to the East Village in New York City, where they have been based for most of the last two decades. The Kennedys are known nationwide as the hosts of the late lamented Dharma Café program on Sirius Satellite Radio, and on Broadway, they are regular cast members of Theatre Within's annual tribute to John Lennon — working in that capacity with Patti Smith, Debbie Harry, Jackson Browne, Cyndi Lauper and a host of others. 
Life on the road and time spent in the creative ecosystem of the Village have informed their songwriting over the course of 14 duo albums and half a dozen side projects, and Safe Until Tomorrow is true to that tradition. What sets the album apart is the inclusion of several anthemic, rocking songs of social consciousness that convey a strong message best summed up in one of the song titles: "Be Silent No More." The Kennedys' music has been described as uplifting, empowering and encouraging. In these turbulent times, they rise to the occasion with Safe Until Tomorrow
Much more at http://www.kennedysmusic.com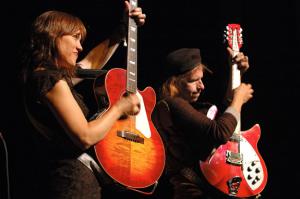 TICKETS
Tickets often sell out in advance.
No need to print an online receipt.
We will have a list at the door.
Purchase tickets online below with a credit card.
Check option
Print and mail this
order form
with your check.

There are no refunds or exchanges for purchased tickets.