For every ticket purchased, you will receive The Oshima Brother's brand new hot off the press CD. A $20 value. Their 4th album. Just ask for it at the merch table.
The Oshima Brothers made a special video just for us. Watch it below. These two young musicians are very impressive and talented. You do not want to miss them. Fun stage banter and soooo nice to visit with. I'm thrilled to bring them to Peterborough.
Maine-based indie duo, Oshima Brothers' have been creating music together since childhood. The brothers blend songs from the heart with blood harmonies to produce a "roots-based pop sound that is infectious." (NPR) On stage, Sean and Jamie offer lush vocals, live looping, foot percussion, electric and acoustic guitars, vintage keyboard and bass - often all at once. They want every show to feel like a deep breath, a dance party and a sonic embrace.
When not recording or touring they find time to film and produce their own music videos, tie their own shoes and cook elaborate feasts. Maine Public Radio's Sara Willis describes their songs as "beautiful, those brother harmonies can't be beat. They are uplifting and, let's face it, we need uplifting these days."
much more https://www.oshimabrothers.com/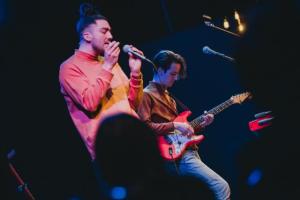 TICKETS
Masks required at each concert until further notice.
Shows often sell out, so place your order soon!
A confirmation email is your receipt.
Your name will be on a list at the door.
Checks are optional but Do Not Use Check Option 1 Week Prior to a Concert
There are no refunds or exchanges for purchased tickets.
Tickets are available at the door for $25 with cash or check only.